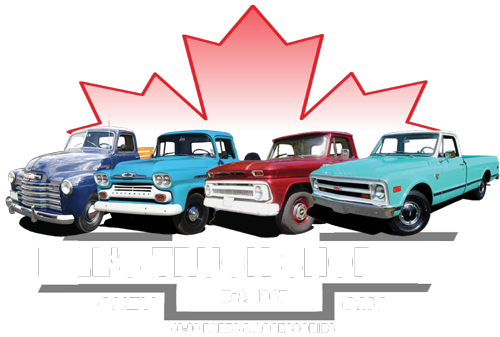 Customer Cars and Trucks for Sale
Western Canada Trucks
Another load of Western Canada trucks and parts available.
Contact Chris Hart @ for more details (289) 356 5168
1949 Chevy 3100 Suburban
Fully restored and only has 750 miles since restoration it is in great shape, runs great, very clean.
Selling for $50,000
Contact Kurt Chapman @ 613-913-6943 or mitchchapman@live.ca
1955 first series California truck
It has a Chevy small block it runs and has an auto transmission.
The fenders were removed for shipping.
Selling as is for $8,995.00 obo
Dan at danielmckay700@yahoo.ca 905-701-2081
1970 Chevy Short-fleet California Truck
Original paint from the cab forward, V8, 4brl, 350 Auto. Power steering and brakes. New short-fleet bed with 2.5″ front drop spindles, 3″ coil rear and disc brakes. Front sway bar, rally wheels and new dash, cluster, and windshield. 
Selling for $22,500
Contact Bill @ 905-725-3460 (Monday to Friday 8 – 5)