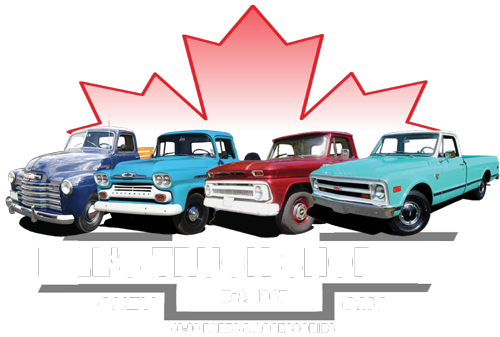 Sales
Call us @ 905-725-3460
Call for info and Pricing, From $175.00, regular price $299.95
Bumpers – Seconds
1960-1962  Chev/GMC Front Bumper – Chrome
1955-1959  Chev/GMC Rear Stepside Bumper – Chrome
1954-1955  Chev/GMC Rear Bumper – Chrome
1947-1955  Chev/GMC Front Bumper – Chrome
Fenders – Seconds
1967          Chev/GMC Left Front Fender
1969-1972 Chev Left Front Fender
1969-1972 Chev Right Front Fender 
Doors – Seconds  Will need work (varies)
1955-1959 Right Door
1972          Left and Right Door
1967-1971 Left and Right Doors
1967-1972 GMC Fleetside Tailgate "Second" Ends not spot welded, requires time spent to weld and trim ends and minor dents on inside bottom.     (One Only)
Sales price
$350.00
Was
$499.95
1947-1955  Rear Fender w/o  spare – Left side only. Surface rust under Primer.
Sales price
$400.00
Regular price
$625.00
N

ew 

1969-1970 Chevrolet Grille, without lettering.
Scratched on upper grill bar section.
Sales price
$295.00
Regular price
$459.00
Universal seat  belt–2  point non retractable  w/  solid  12″  sleeve  and  40″ outer-push button style sold as pairs  for 2  positions available in  blue ( N)-red-(R)—gray-(G)  and black-(BK)
1970-1980 Camaro-Firebird  ft  suspension w/ sway bar and springs from California
Please note that we have hundreds of new and used parts in stock and that this is only a sample.
Please call for more information on the part you are looking for. 905-725-3460