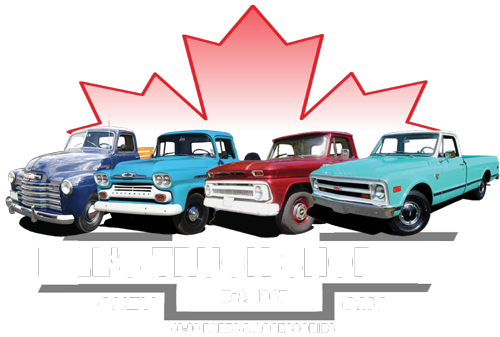 1946 – Down Used Truck Parts
Here are new Items not yet found in our catalog. For a complete list of all our products please check the catalog for your truck. For catalog information Please contact us. Call us @ 905-725-3460
1941 – 1946 Firewall, very good condition.
1946 Longbed runningboards with filler panels. Sold as a pair.
1946 Short runningboards for cab & chassis
1946 and under  3 speed (top loader trans)
1947 Frame was brought from Bill's truck and Sandblasted
115 inch wheel base | Frame has been fully boxed in | Mustang 2 front end rear end is set up for 4 link 9 inch Mustang front end | Front drop from stock is 6″ | Rear section drop frame 8″ | Set up for 4 link with Panhard bar | Frame is set up on a 8″ ride height | Pretty much complete $2,500.00 or best offer
Contact: Chris Doucette | 905-995-3532 chris.doucette3@gmail.com
Pair of 1939-1940  Chev  1 ton ft fenders from californa.
1941-1946  Pair of windshield hinges in excellent condition
SWAMP  COOLER    brand   THERMODOR
 original USED  early  window cooler-excellent condition
1939-1946  GM truck door  -RIGHT
Please note that we have hundreds of new and used parts in stock and that this is only a sample.
Please call for more information on the part you are looking for. 905-725-3460